Visitors
Countries
| | | |
| --- | --- | --- |
| 83.4% | | United States |
| 5.9% | | Canada |
| 3.1% | | United Kingdom |
| 2% | | Australia |
| 1.1% | | Singapore |
Visitors
| | |
| --- | --- |
| Today: | 50 |
| Yesterday: | 110 |
| This Week: | 247 |
| Last Week: | 702 |
| This Month: | 2073 |
| Last Month: | 2748 |
| Total: | 183759 |
Custom Search
Written by Bethany
Monday, 21 July 2008 02:41
Diagonal Threes!
1.Get 6 strings all different colors. Make them 35 inches long. Tie a knot 2 inches down from the top.
2.Separate the strings and number them from left to right. The fourth string wont show.(I used purple, blue, pink, green, orange, and red)
3.Start with string number 1 (far left) and tie double knots onto the next 3 strings.(So now that string is now number 4 from the left) (Example in picture)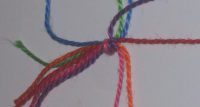 4. Now do the same but use string number 6 (far right) and work from right to left. (Now that string is number 4 from the right)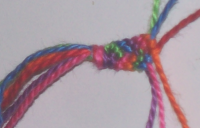 5.Repeat steps 3 and 4 until the bracelet is as long as you want. Tie it off. Then tie the 2 tails together around your wrist and wear it! 
Last Updated on Wednesday, 24 June 2009 01:27